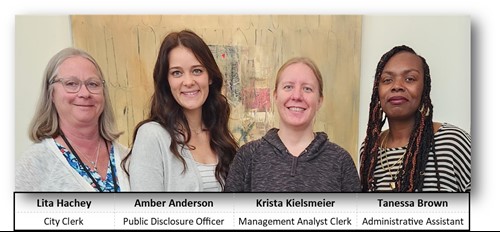 About
The City Clerk's Office provides a variety of services that support the City Council, City Departments, and Sammamish residents:
It is our responsibility to coordinate City Council meetings, production of meeting materials, public notification, and meeting minutes.
Other functions of the Clerk's Office are to manage public records requests and to help recruit members to serve on a variety of City boards and commissions.
We are responsible for retention, archiving, destruction, and disposition of City records, and preservation of records, such as ordinances and resolutions.
The Clerk's office oversees Sammamish Business Licensing, issues Solicitor's Licenses, manages all awarded City contracts, and serves as the liaison to King County concerning elections.
Note: The City no longer provides notary service for the public.
City Calendar
calendar_month
View upcoming city meetings on the calendar
View Calendar
Official City Documents
insert_drive_file
View Documents
View Documents